Since when did vampires become sexy?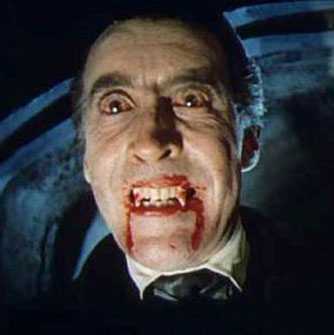 This just makes no sense to me. Mythologically, vampires are undead – meaning they are animated, sentient human corpses. They feed off the blood of living humans. They are powerfully magical, cunning and merciless. They are pure evil!
This is, at least, the 'traditional' view, and the view that seems still dominant in much of the horror-fantasy genre. Note that term, horror. These creatures inspire horror – that's a very strong word indeed.
In other parts of the genre, vampires are portrayed as suave and charismatic, but still ruthlessly evil.
In other parts, they have become sexy. Now, I don't watch much TV and haven't seen that many films, but I think Twilight is an example of the 'sexy vampire'. I just don't get it. Vampires, surely, are anything but sexy. They are one of the biggest fantasy villains (along with werewolves, ogres etc).
I did a very small amount of research, and apparently (be aware that of all the blogs I've written, this is probably the topic I know least about), the 'sexy vampire' can actually be traced back to Bram Stoker's Dracula and beyond. I must admit I was mildly shocked, as I thought it was a much more recent phenomenon.
Apparently (I haven't read it), Stoker's book has strong sexual themes and is a major influence on the 'sexy vampire'. A few years before Dracula was Le Fanu's Carmilla, about a female lesbian vampire, and this book greatly influenced Stoker's.
That's all I've found out so far, but I was intrigued by this information. It seems that Le Fanu and Stoker (and maybe others) bridge the gap between the classic vampire and the sexy vampire. Personally, for me, vampires will always be horrific, and I'm please to see that the horrific vampire still exists today. I am baffled by the new sexy vampire, which seems to be a completely different creature. I'm confused as to why these new creatures are called vampires – I suspect it's because of the drinking blood habit, though I know nothing about the Twilight books and other 'sexy vampire' literature and films.
One more thought – I think (correct me if I'm wrong) that the new sexy vampires are alive, rather than undead. This would admittedly make them sexier. Though I am confused as to the transmission of sexy vampirism. Classical vampirism is usually transmitted by a lethal bite (often to the neck) from an existing vampire – the victim then awakens from the dead in its vampiric form. If sexy vampires are not dead, then how does one become one?
As I said, I know very little about classical vampirism and even less about sexy vampirism, so please enlighten me if you know more than I do.